💼 Initiatives
The global impacts of the COVID-19, the limitations of lockdown notices and difficulty in travel among others, have brought to a slowdown and in some cases halted any construction activity. It was WCCE responsibility to assess both the impact of COVID-19 during the pandemic and aftermath, but also the proposals to be made by civil engineers to prevent contagion of users, as well as enhance the health  and safety of all professionals an employees. On such grounds, information has been compiled and discussion has been provided within WCCE Let's Talk Civil Engineering Series.
Impact assesment
Following we present the different workshops held regarding the impact of COVID-19 in civil engineering related sectors. For the time being, workshop have only been held in English and Spanish. 
Compiled resources
🔬 Covid-19 Safety Guidelines for Construction Sites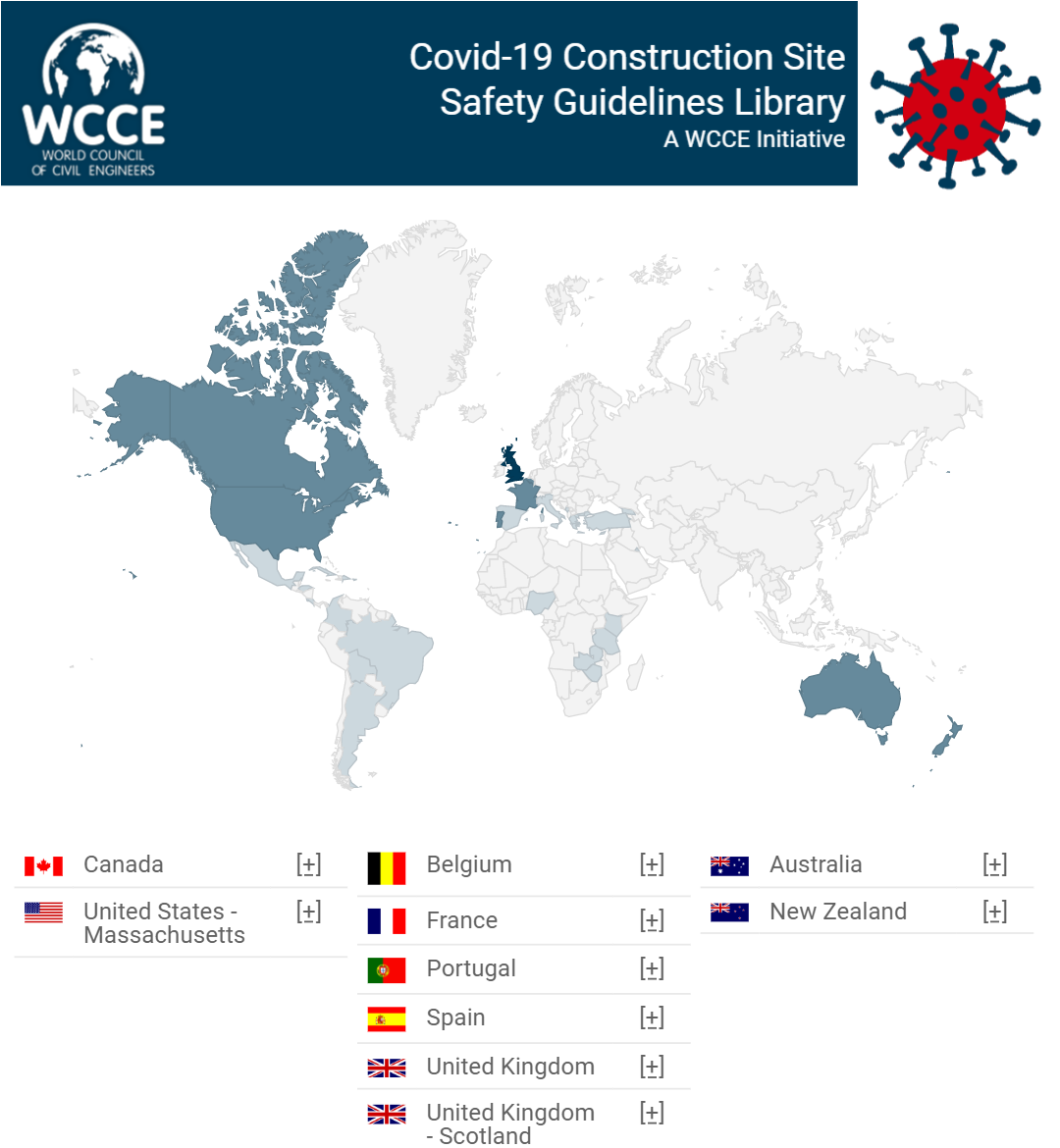 WCCE members are fully aware of the need to slow the Covid-19's virus spread. Bearing in mind that quite a large number of countries are considering construction as an essential activity which is labour intensive, it is the responsibility of our professional to prevent the spread of the virus in the workplace. On such grounds, WCCE has become to compile safety guidelines for construction works from different jurisdictions in order to help other professional organizations which lack them or have not been put in force yet. 
For the time being, 36 guideline documents from 31 countries have been collected but we expect that with everybody's collaboration, we would be able to build a relevant repository on the topic. 
Contribute on the following link. The repository can be consulted following:
🔬 Covid-19: declaration of the European Construction sector
Europe's Stakeholders of the Construction Sector have issued a Joint Statement on the Covid 19 - crisis. The undersigning European associations, represent the construction sector, an industry worth 9% of the EU GDP and employing more than 16 million Europeans. In light of these difficult times, we wish to reiterate our commitment to supporting public authorities as well as our dedication to our most fundamental asset, our workers' wellbeing.
WCCE will show projects that feature innovative aspects and that are uploaded by any engineer of a member country that played a role in it. The project doesn't need to be large or expensive but should demonstrate a particularly innovative aspect or method used during the design or construction phases. The submission will be evaluated and after acceptance, it will be added to the showcase 🎞 here. Credits and contact information of the author will be included. To upload a project click the link: ➕🚧 Add your project to our Showcase. 
Due to the global impacts of the COVID-19, the limitations of lockdown notices and difficulty in travel, the option of conducting webinars is an ideal option to disseminate our initiatives. Through ZOOM and YouTube, a keynote speaker or several panel members speakers will address the virtual audience in 2h webinars through presentations with a 1h Q&A open discussion. All webinars will be available through WCCE's YouTube channel. Sessions will be delivered in English and Spanish languages and topic will seldom be repeated.
If interested in the Series, check our 📺 Latest broadcasts section.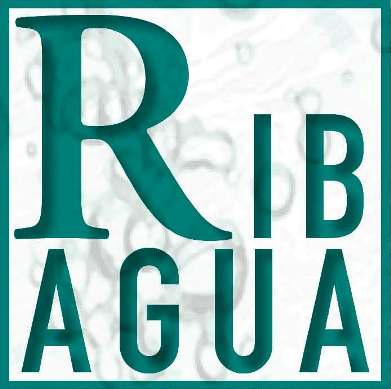 Since 2013 RIBAGUA journal addresses the scientific contribution of Iberoamerican investigators and practitioners in the Spanish and Portuguese languages regarding water issues. To encourage participation from young investigators, the RIBAGUA Best Paper Award was launched. This award is supported by IAHR and WCCE and awards anually the best contribution to RIBAGUA in two categories: best technical paper and best scientific paper; both with strong original research dealing with significant water issues in Ibero-America. The award consists of an award certificate. The Award recipient is selected by the RIBAGUA Editor and the Editorial Board.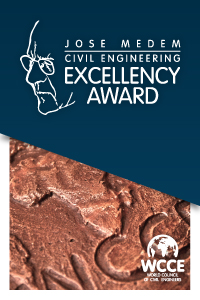 WCCE awards Civil Engineering Excellence Awards through its Jose Medem Award. The first presentation of the Award was made in 2010 during our 5th General Assembly of WCCE. The awardee, civil engineer as defined by the WCCE member society of the nation in which he or she resides is to be selected based on his or her noteworthy contributions to the practice, theory, or public status of civil engineering. Nominees should possess appreciable experience in the profession, international standing as well as significant educational accomplishments. 
The World Civil Engineering Olympiad - WCEO aims to bring civil engineering into secondary schools and colleges, drawing their interest to become civil engineers. Similarly to other disciplines' International Olympiad schemes (Mathematics, Biology, etc), WCCE has designed a set of events regarding several disciplines within the scope of the practice of civil engineering. Such initiative was presented during WCCE's 14th General Assembly held in Lisbon in September 2019, becoming endorsed to be replicated globally.
We are proud to introduce the new WCCE initiative, the online Journal of Applied Water Engineering and Research (JAWER) published jointly with the International Association for Hydro-Environment Engineering and Research (IAHR). This peer-reviewed Journal launched in 2013 publishes papers and practical case studies on all aspects of hydro-environment engineering and research. Practically oriented papers and case studies are particularly welcome.
JAWER has been evaluated for inclusion in Scopus by the Content Selection & Advisory Board (CSAB).
Category: 📰 Journals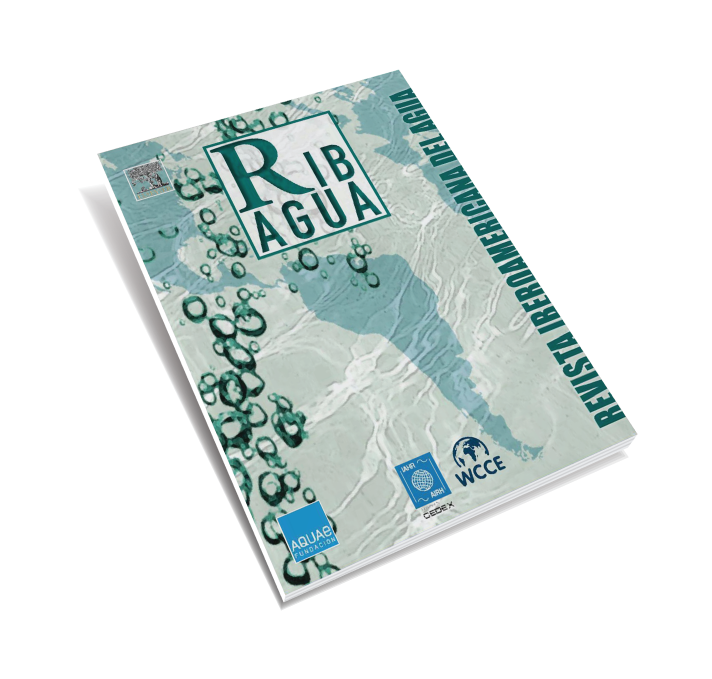 Best practices and innovative research to solve Iberoamerica water issues.
RIBAGUA is a joint journal edited between IAHR - International Association of Hydroenvironmental Resources and WCCE  - World Council of Civil Engineers 
Publisher: Taylor & Francis
Frequency and format: 2 online issues per year. Hard copies can be requested on demand.
Submission languages: Spanish and Portuguese 
The Project Anti-Corruption System (PACS) is an integrated and comprehensive system designed to assist in the prevention and detection of corruption on construction projects. It uses a variety of anti-corruption measures, which can be integrated into project management. These measures impact on all project phases, on all major participants, and at a number of contractual levels. PACS comprises the PACS Standards and the PACS Templates.