The global impacts of the COVID-19, the limitations of lockdown notices and difficulty in travel among others, have brought to a slowdown and in some cases halted any construction activity. It was WCCE responsibility to assess both the impact of COVID-19 during the pandemic and aftermath, but also the proposals to be made by civil engineers to prevent contagion of users, as well as enhance the health  and safety of all professionals an employees. On such grounds, information has been compiled and discussion has been provided within WCCE Let's Talk Civil Engineering Series.
Impact assesment
Following we present the different workshops held regarding the impact of COVID-19 in civil engineering related sectors. For the time being, workshop have only been held in English and Spanish. 
Compiled resources
🔬 Covid-19 Safety Guidelines for Construction Sites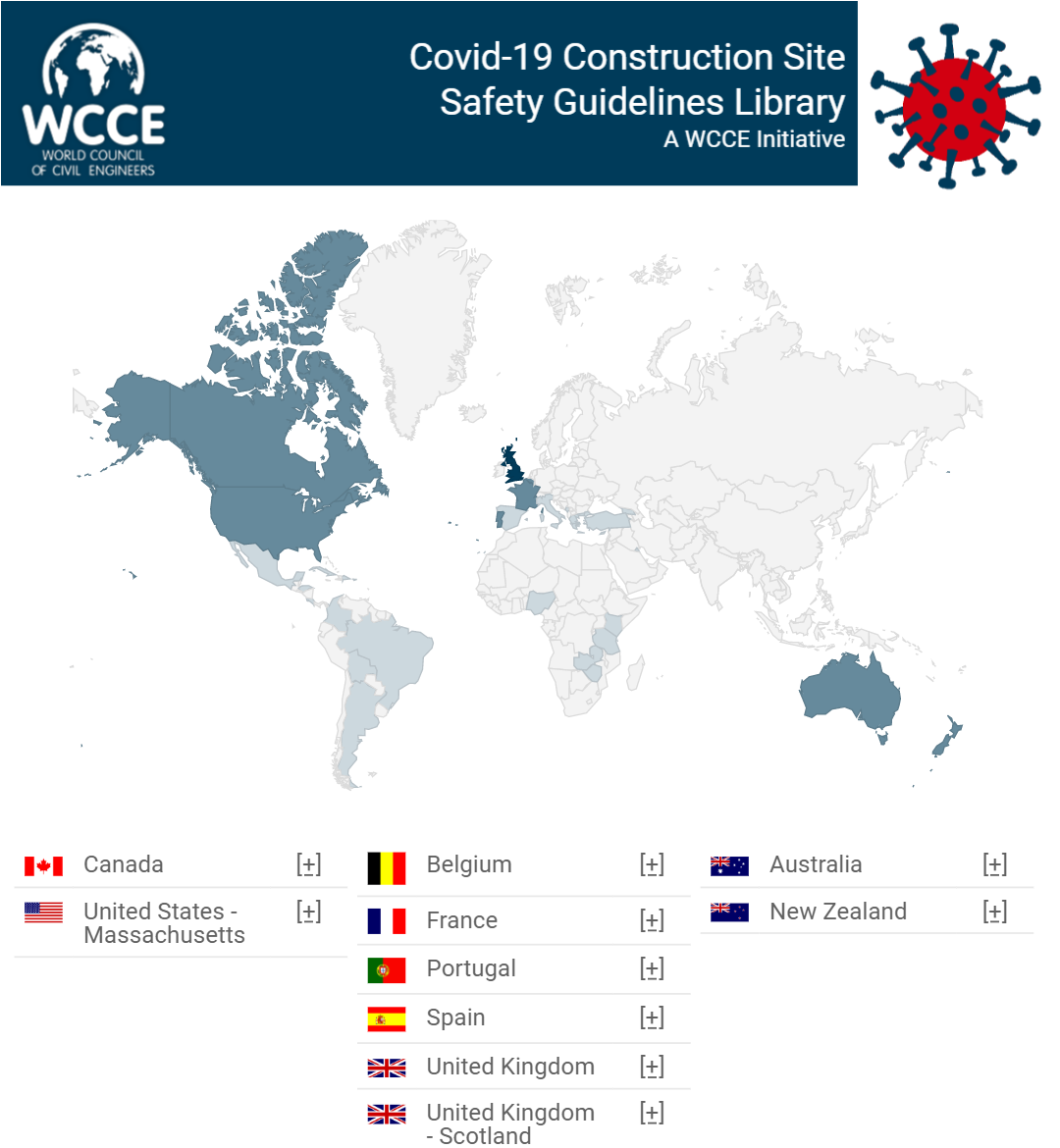 WCCE members are fully aware of the need to slow the Covid-19's virus spread. Bearing in mind that quite a large number of countries are considering construction as an essential activity which is labour intensive, it is the responsibility of our professional to prevent the spread of the virus in the workplace. On such grounds, WCCE has become to compile safety guidelines for construction works from different jurisdictions in order to help other professional organizations which lack them or have not been put in force yet. 
For the time being, 36 guideline documents from 31 countries have been collected but we expect that with everybody's collaboration, we would be able to build a relevant repository on the topic. 
Contribute on the following link. The repository can be consulted following:
🔬 Covid-19: declaration of the European Construction sector
Europe's Stakeholders of the Construction Sector have issued a Joint Statement on the Covid 19 - crisis. The undersigning European associations, represent the construction sector, an industry worth 9% of the EU GDP and employing more than 16 million Europeans. In light of these difficult times, we wish to reiterate our commitment to supporting public authorities as well as our dedication to our most fundamental asset, our workers' wellbeing.