Echoes of the 13th General Assembly of WCCE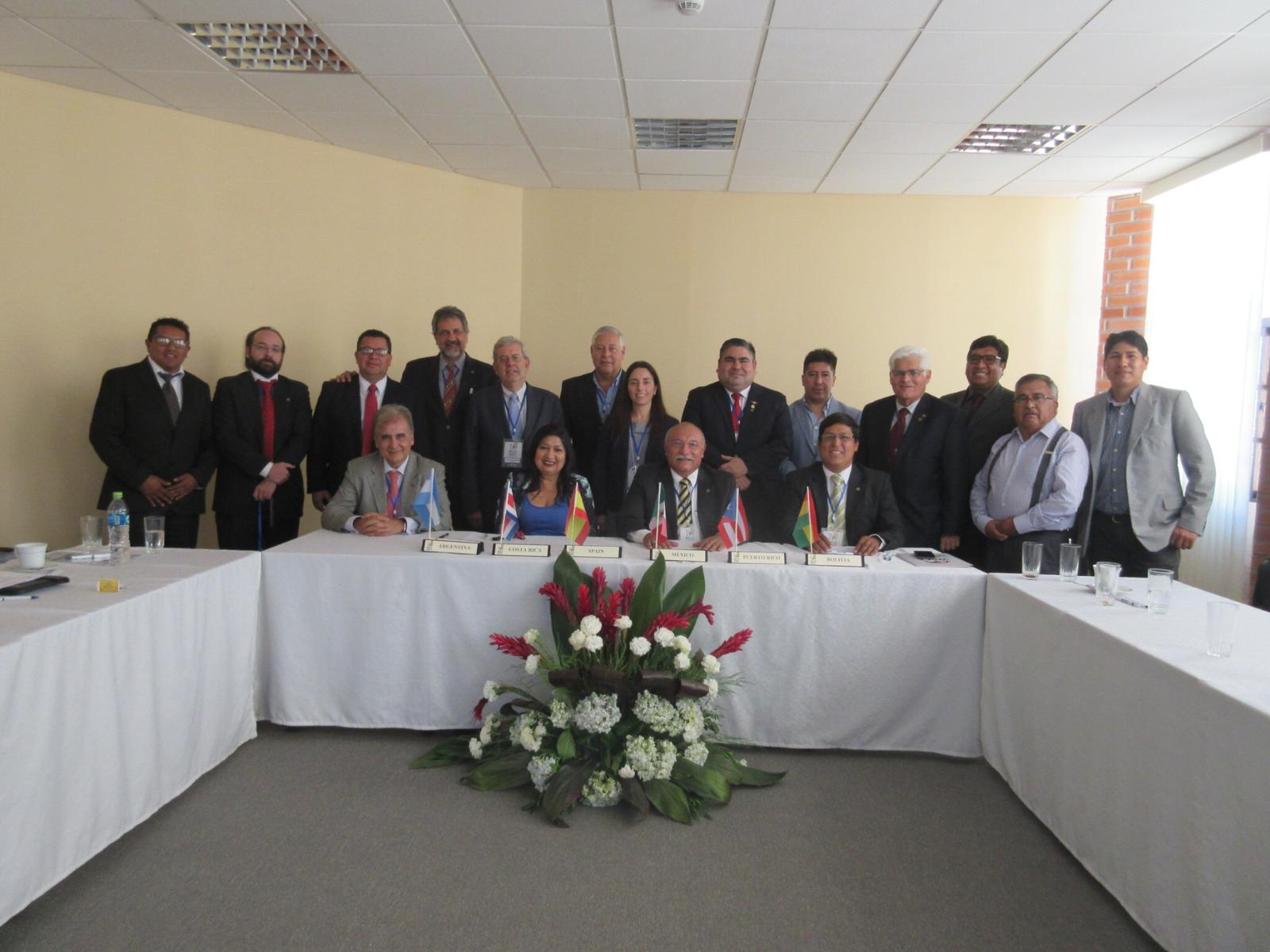 WCCE's 13th General Assembly of the World Council of Civil Engineers was held in Sucre, Bolvia from 19 to 21 september 2018, organized by the Colegio de Ingenieros Civiles de Bolvia - CICB, in parallel with its International Congress in Civil Engineering. The Assembly was welcome by CICB's President Álvaro Chrruarin. Attendance at WCCE activities by WCCE delegates was enriched by the attendance of UPADI's President Mª Teresa Dalenz Zapata. In this Assembly, Portuguese engineer Carlos Mineiro Aires took over the presidency from Mexican Engineer Alfonso González, who becomes immediate Past President. Past President Tomás Sancho joins WCCE's Senior Advisory Board.
Regarding our General Assembly, various issues were addressed being the major achievements of the meeting as follows:
Other changes in office

Argentina's representatitive Jorge Abramian was elected new President Elect for the period 2021-2024
Costa Rican delegate Óscar Sánchez Zúñiga was elected Treasurer
Several continental representative to the Executive Committee were elected 

 America: Mexican Engineer Tito Guillermo Fenech
 Europe: Spanish Engineer Sara Perales Momparler

Several initiatives have been developed jointly jointly with UNESCO during the last months under the aegis of the UNESCO – WCCE partnership agreement being among them:

Publication of Water and Economy monograph on the topic addressed by the International Year of Water initiative for the period 2016-2019.

Contributions to UNESCO's SAGA report relative to assess the current situation of Women Civil Engineers and how to enhance their participation in the profession.

Contributions to UNESCO's II Engineering Report titled 'Engineering UN's Standing Development Goals - SDGs' together with some other partners on the following topics:

Gender Equality

Engineering and SDGs: Latin America

The Future of Engineering 

Also in the field of partnerships with other organizations they presented the following activities.

Participation in WFEO's 50th Anniversary meeting
Participation in 9th CICPC's meeting in held in Cancun giving birth to Cancun's declaration The future is today

Participation in EAMC's , Engineering Association for Mediterranean Countries General Assembly held in Beirut, Lebanon.
Last but not least, WCCE honoured ECCE's proclamation of 2018 as European Year of Civil Engineering by hosting a session on CICB's International Congress on Colonial Engineering contribution to the America's development.
In his valedictroy message, Alfonso González stated that his mandate has accomplished consolidating WCCE as a global partner with the UN system on the principles presented in WCCE endorsed declarations such as  Madrid's Declaration The future we want signed and Cancun' Declaration The future is today which states the commitment and proposals of civil engineering towards the achievement of UN's Sustainable Development Goals and our profession's role in such achievement, which were fostered by WCCE's framework agreement with UNESCO. 
The next General Assembly in September 2019 will be held in Lisbon, Portugal.